These paperclip earrings are just as fun to wear as they are easy to make.  I used some striped paperclips for these, but you can use silver, solid color, or multi-color for variety.  Paperclips are never very expensive, but you can get great buys during the back to school sales in July and August.
You'll need a small piece of plastic canvas (I used #7) and a box of colored paperclips.  Also two jump rings and earring French hooks, posts, or clips.
Style one:  Cut a small square of plastic canvas with 4 holes in each direction.  Make sure all sides are complete.  Turn the canvas on the diagonal, and  hang a paperclip in each hole.  You can fill the center by adding stitching with coordinating fibers, making a swirl shape with another paperclip, or gluing on a little jewel or some beads.  Add a jump ring in the top square and attach an earring hook.
Style two.  Cut a small square with 4 or 5 holes in each side.  Turn on the diagonal, then cut down each diagonal to make a V shape with just one hole, making sure all sides are left on the canvas.  Hang a paper clip in each hole.  On the two end holes, add a second paper clip.  These end clips will be pulled up and joined with a jump ring.  Add an earring hook to the jump ring.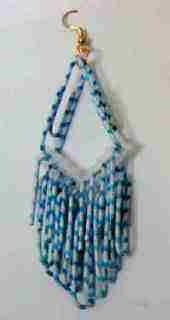 You can make a matching necklace by cutting the canvas into a slightly larger square or V and adding more clips.  Then, just thread a ribbon or chain through the jump ring.
These are so much fun.  Tweens and teens love them, and they are easy enough they can make new color combinations and styles any time they want.  This is also a great project idea for a girl's party.  They can keep busy making them, then take them home as a party favor!
Have some fun making your own, and please share your variations when you complete them.