It won't be long until you are looking for an original thank you gift for your Child's teacher. This project is easy enough that your kids can actually help you and it can be adapted for a man or woman teacher. In addition, depending on your budget, you can use smaller tins, or fewer tins to keep expenses within your budget. The tutorial I'm offering here is the deluxe version, but I will also offer you ideas for less expensive versions.
You will need:
3 or 4 sheets of 12 x 12 paper or card stock. I have used a double sided scrapbook paper from this kit:  paper kit
clear drying glue or mod podge
a 13″x10″ cookie sheet (inside dimensions are about 1″ less)
1 yard coordinating grosgrain ribbon
double sided mounting tape or foam dots: You can find the tape in this assortment.
craft scissors:
a 51mm round craft punch, or a good pair of scissors and a steady hand
small foam paint brush
alphabet diecuts or stickers.
12 strong self-stick round magnets about 3/4 to 1″ size
miscellaneous items to fill tins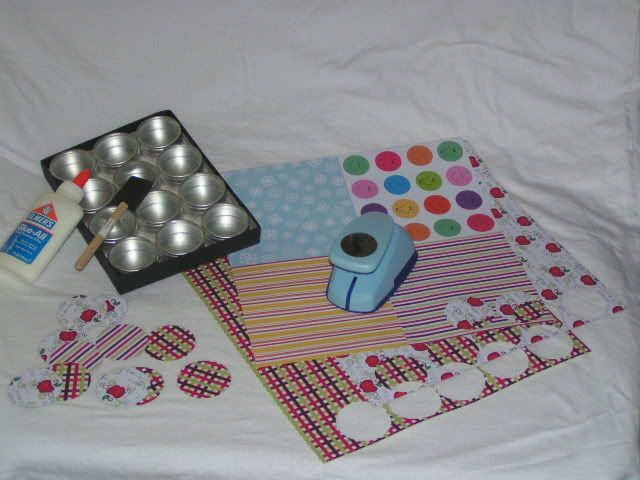 To begin, I cleaned the glass in all the tins, then punched out 12 circles from three coordinating papers.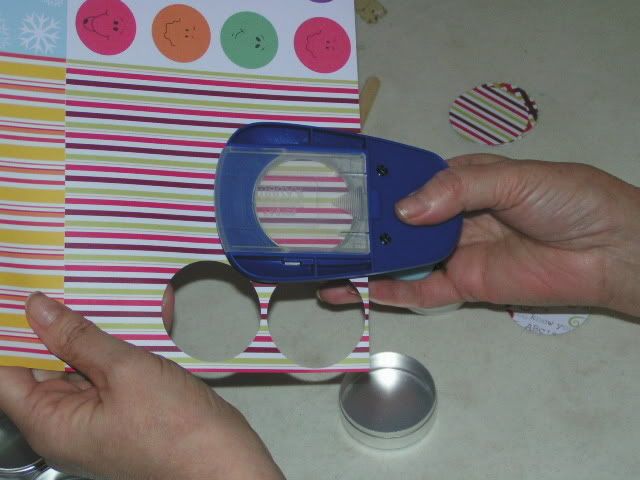 You could use more or less different designs depending on the look you want. If your paper is not double sided, and you want a more finished look inside, you will need to cut or punch out a total of 24 circles. Next, I applied a small amount of glue to the front side of my paper and spread it out with a foam brush making sure all areas were covered.
I then placed the glue side down to the glass on the inside of the lid, and pressed it in place with my finger. Make sure it is rubbed down very well, or you will have glue bits or bubbles showing on the finished product. If you are using one sided paper glue a second circle with the plain sides together and the finished side showing on the inside of the lid.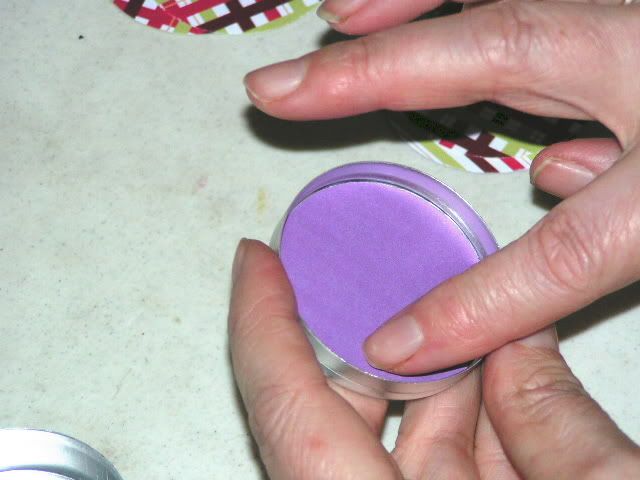 While the lids were drying, I prepared a paper for the inside of the cookie tin by measuring the inside dimensions and rounding the corners to fit the tin.
I applied a thin coat of glue to the back of the paper and glued it inside the cookie tin. You can also add a ribbon for hanging. I used a glue gun to tack the ribbon to the back of the tin, and then reinforced with a strip of duct tape.
While all the glue was drying I punched out the letters and using tiny strips of double sided mounting tape and stuck them to a coordinating piece of card stock.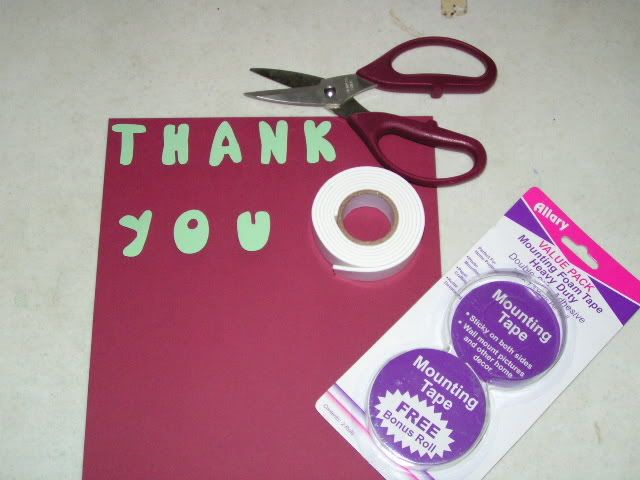 Cut around your letters in any shape you wish. Here they are shown with a rectangle backing. I chose "Thank You" for my gift, but you could also personalize this with the teacher's name Attach a magnet to the back of each of your tins, and arrange them however you like on the cookie tin making sure to save room for your personalization. Next, glue or tape your personalization to the cookie tin.
Now you just need to decide what to put in the tins. If you choose supplies, you can glue a sample on the outside of the items they will find inside. I've shown one with paperclips inside and a paperclip glued to the outside of the tin. Other items teachers can use would be: erasers, push pins, staples, brads, pencil sharpener, measuring tape, chalk, rubber bands, etc… I actually like to put little candies and other edible treats in them, and include a note that suggests the teacher can re-fill the tins with supplies when the candy is gone.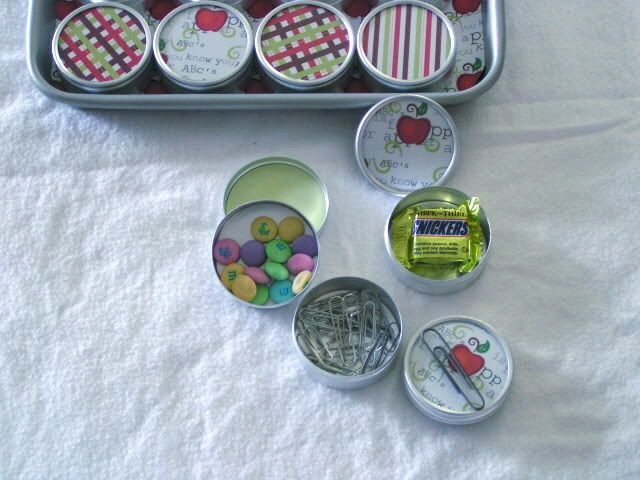 There you go. Fun, easy and unique. Best of all, it only costs a few dollars and takes a couple hours to complete. For less money, you can purchase watchmaker tins in their own case and a smaller size. Here is an example of a 15 count set in it's own container: 15 count Watchmaker Tins If you used this container, you could decorate the top of the outside tin, follow all the directions for decorating the small tins, but omit the magnets. Since this case holds the tins you won't need magnets. Place your personalization on the outside, and because the little tins inside are smaller you will use less to fill the tins.
Sandi