Once again, I am featuring a tutorial from a friend.  Morgen has been making and selling purses for quite some time, and has created a very successful small business.  Her purse tutorial is similar to many others you might have seen, but she has created some short cuts to save time.   This style is extremely popular right now, and with just a little time and some beautiful fabric you can have your very own.  Here is Morgen's tutorial
Find some fabric you like.  Cut two rectangles, one of the exterior and one of the lining.  The measurement will depend on how deep and how wide you want it.  My favorite purse size starts with a rectangle about 26 inches by 13 inches.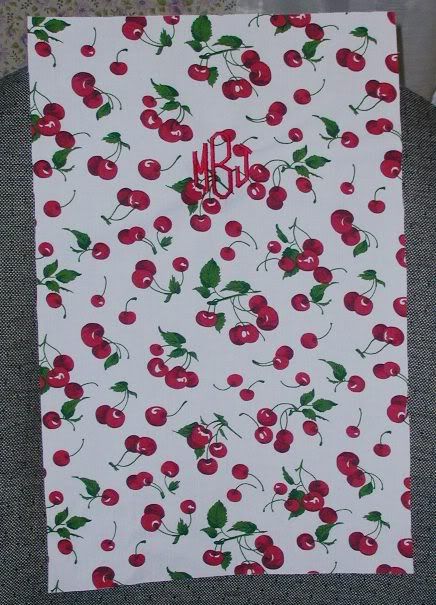 Fuse interfacing to both the exterior and the lining.  I use Pellon Decor Bond.  If you are going to monogram your purse, do it now.  Also, if you want a pocket, now is the time to sew that on.  I make mine by cutting a rectangle and fusing it with interfacing.  Sew a piece of lining to it (right sides together) and leave the bottom of the pocket open.  Clip corners, turn, press.  Press your opening under.  Now, attach the pocket to the already-fused lining.  Sewing it on will close the opening you left when you turned it.  My pocket for this size bag would start with a rectangle roughly 8 inches wide by 6 inches tall.  I center it by folding the lining fabric in half and placing the pocket directly in the middle of that.

Fold your rectangle in half and sew the sides.  Do the same for the lining fabric.  These should be indentical in size when you are finished.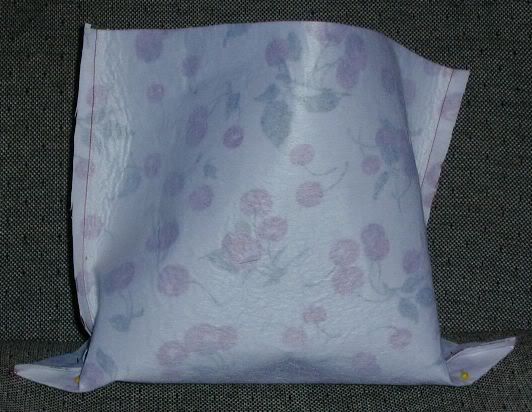 Flatten the bag out so you can make a triangle at the bottom (it will have your side seam directly in the center) and measure how much of a base you want your bag to have.  Mine average 3 inches for my purses.  Pin (if you need to) and sew across.  I use my face plate on my sewing machine as a measuring guide and I don't mark anything.  But then, I am not a perfectionist and the bags all seem to come out okay.  Do this to your exterior and interior (4 triangles) and cut the excess off when finished sewing so you have the same seam allowance you have on the sides.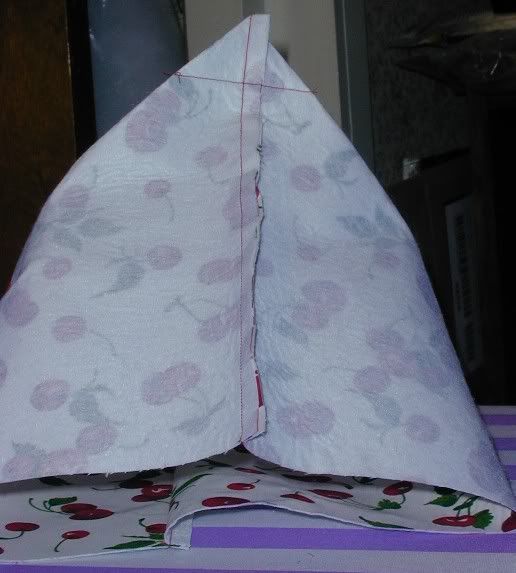 Woops, they aren't cut off in this picture.
Now, turn your exterior fabric right side out.  Put the lining inside of it.  Fold down the tops so they're even (iron if you want) and pin to make a nice neat top.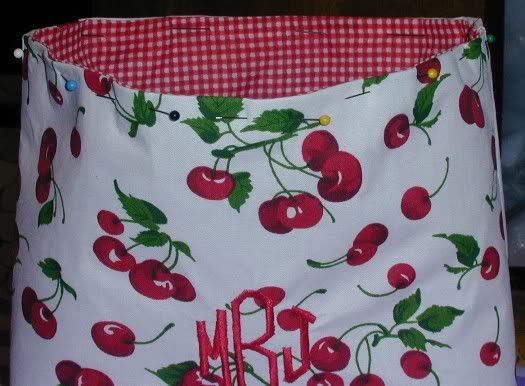 Now you need to make your handles.  Mine start as a strip of the exterior fabric, 4 1/2 inches by 22 inches.  Fuse your interfacing to this.  Cut in half lengthwise (now you have 2 strips, each 22 inches long by about 2 1/4 inches wide.  Iron these in half lengthwise.  Open them up.  Fold in raw edges to touch at the ironed line.  Iron these down and fold in half again on that original ironed line.  Sew close to folded edges.  I didn't photo this step since I make them the same way Connie does.  I will try to find some pictures.  Stick the handles in the top of the bag between the exterior and the lining.  Make sure they look even and are both the same length.  Pin them.  Sew around the top.  Be careful at the side seams, I have broken a couple needles in my day!!  Add any ribbons or trims you want (And remember that every time you sew over the handles you are reinforcing them!)  Also remember that your bobbin thread will show on the lining so coordinate your colors!  There.  Clear as mud?!!?!?  Please ask if you have questions or I missed a step or two or five.